Source: The HR Director
---
If I were to simplify the two polar opposite mind-sets around the world of HR on the issue of the gig economy, then it would be characterised by those fond of over-promoting it as the next big thing on one hand and those who see little obvious application to their established business models on the other.
Neither offers a balanced view on a subject that, if we look deeper, is offering to provide us with a catalyst and test case for the future of work. Wherever you stand you will need a strategy to deal with it.
Before exploring the gig supply side, let's ask whether the hierarchical organisational structure we're all so familiar with is still relevant today and if it is beginning to change, then what are the underlying factors making this a reality? Technology gets the obvious column inches but the rapid rise in the number of contingent workers (from gig to the precarious sectors, from zero hours to the professional chattering classes) and the possible bottom line benefit to margin-minded fiscal management is, I believe, the developing story to watch.
As I've stated, the obvious default position is to over-emphasise the technology angle powering change. Of course it is safe to say that the multi-billion dollar Technology sector is continuing to disrupt and transform industries but our relative capital expenditure in business is in fact reducing at a very time when we need to be innovating and adapting. 'Short-term capitalism' is a systemic structural problem in our economy where banking our profits and being beholden to the needs of the shareholder community seems to take precedent over an investment strategy for innovation & growth. This, you feel, must change.
In the multibillion dollar HR Technology sector (highly dominated by recruitment point solutions) the increasing pace of change by visionary vendors in the freelance space has many exciting opportunities on its roadmap. For those unfamiliar with such platforms, they lend heavily from their consumer counterparts such as Uber and AirBnB, to provide a safe and accessible, intermediary platform to access vetted, curated, freelance talent. The exciting thing about the progressive march forward is that the projected improvements in digital candidate assessment could eventually help crack the perennial talent supply and demand problem where we can eradicate disengagement and also boost productivity with clever tech-enabled assessment. Watch this space.
However, in response to a business world that is no longer predictable, repeatable and rigid, there is a whiff of opportunism in the air when it comes to tapping into the rise of the freelance sector. An emerging template of the new organisation has 'consistent flexibility' in mind and it might just be the answer to the productivity and cost challenges the boardroom has been looking for. Put simply, customer at the heart of the organisation, excellent data insight, a smaller core of employees responsible for investing in aligned projects & oversight and a curated, specialist flexible, contingent freelance community accessible on an on-demand talent platform to deliver at the point of need and then disappear thus not burdening the business with unproductive down time and fixed employee costs. Tapping into the value-creation structure that smashes through hierarchy and targets mastery instead is a silver bullet for organisational success in the years ahead.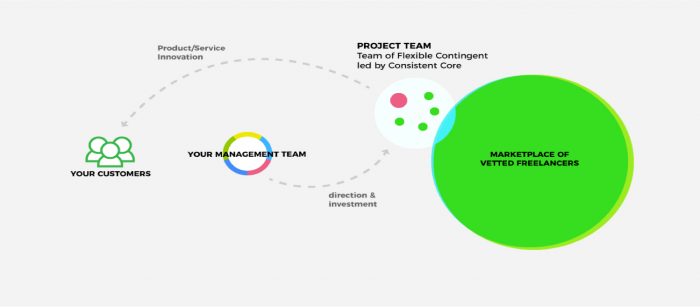 This change won't be linear. Our contingent workforce is growing rapidly, however barriers to innovating to this new way of working are plenty and need careful attention:
– As shown by recent judgements on Uber and Deliveroo, our employment landscape is out of date. A modern employment review is underway and may provide some answers about the sort of economy and society we wish to pursue.
– What's more, our tax and company laws send all the wrong signals to freelancers and the Government has a potentially enormous gaping hole in the exchequer coming up in 2020 with the rise of the freelance population. The forthcoming IR35 implementation looks to have potentially catastrophic penalties to a growing freelancer community.
– The wider knock-on affects of having a small core in the organisation centre and a large, transient, freelance construct throws up major new issues about the sociology at work – how we define belonging? the issues of IP ownership? co-employment? How the sparks of true innovation really come about?
This is a fascinating and rapidly evolving area of work and I'd suggest that every HR organisation starts with the following:
1. Understand the scale of your current freelance problem / opportunity using your data intelligently, considering partnering with a technology vendor.
2. Build an effective total workforce strategy that embraces talent economics, impact of automation and places a premium on putting to the test what you want your organisation to represent. Get this wrong and in an era of employee citizenry you could be diluting your well-formed EVP.
3. Scan the horizon for one of the most fascinating developing stories taking place in our evolving future of work.
This is a time to champion innovation to bring out the best in people-centric organisations especially when pressure exists to take a more short-term and potentially toxic approach from other parts of the boardroom itself.
---